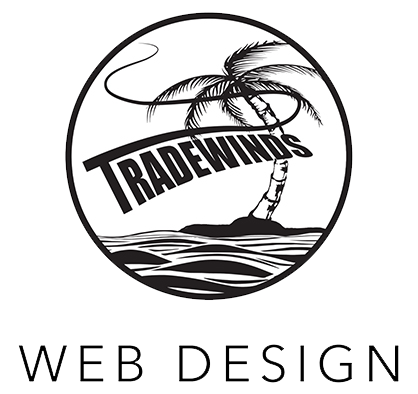 Portfolio of Websites for our Happy Customers
We are proud to have partnered with many well-known and respected corporate clients as well as exciting new and upcoming brands.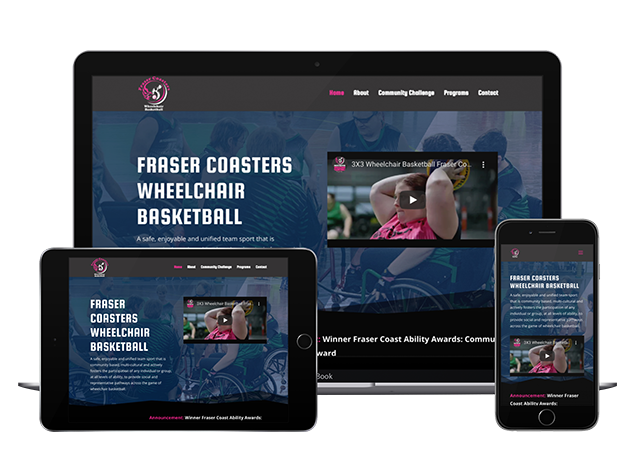 Fraser Coasters Wheelchair Basketball
Fraser Coast Wheelchair Basketball Club is an inclusive, progressive basketball organization, providing opportunities for players, coaches and referees of all skill levels in a friendly, welcoming atmosphere.
Fraser Coast Wheelchair Basketball Club wanted a simple 5 page informative website which could grow over the years. They wanted to include some video media and use their logo colours as a motif throughout their site.
It was important that their management each had a personalised organisation email.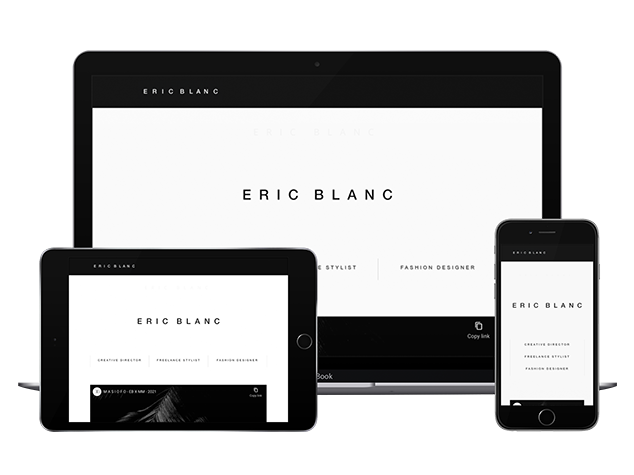 The fashion of Eric Blanc is a combination of history, culture, evolution, time, nature and mood. His work has been featured in Vogue, and other popular fashion publications.
These factors help to create his website drawing inspiration from Eric's sense of style, expression and self.
Eric had a brief of creating a simple yet stylish, minimalist website. He wanted to push cultural boundaries, experiment with culture, history and life, while challenging the fashion status quo.
This is a great example of one of Tradewinds Web Designs $299 website builds.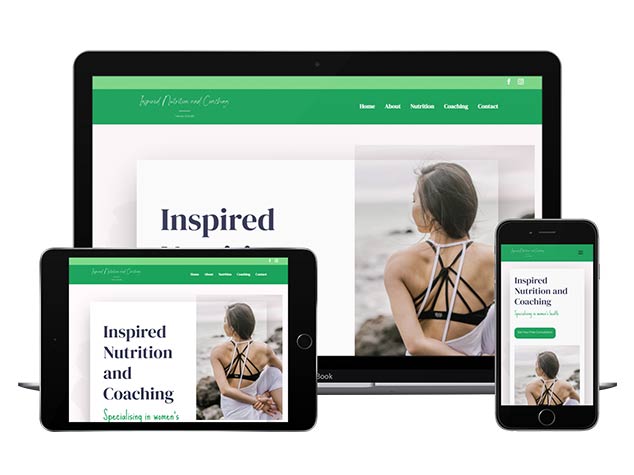 Inspired Nutrition and Coaching
Tahnee from Inspired Nutrition and Coaching asked Tradewinds Web Design to create a fresh, modern health and fitness website that could scale as her business expanded.
This is a great example of one of Tradewinds Web Designs' $599 website builds that continues to grow to this day.
Tahnee has added a couple of extra pages and is learning to work on and administrate the website with the guidance of Tradewinds Web Design staff.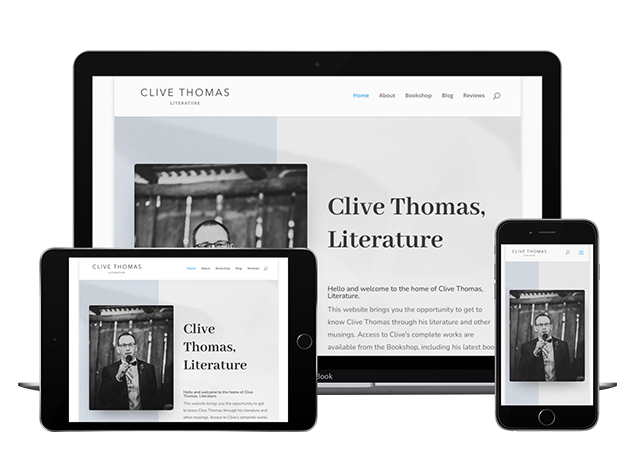 Clive Thomas Literature is an excellent example of a $899 website build by Tradewinds Web Design. 
Clive did not want a fully functional eCommerce site but still wanted to sell items from his website. We created a bookshop section without the use of woocommerce that links to Amazon and other affiliates.
The website gives you the opportunity to get to know Clive Thomas through his literature and other musings and purchase books straight from his website.
Kasturys Indian Restaurant and Cafe
Kastury's approached Tradewinds Web Design with an interesting opportunity to integrate existing point-of-sale software with the power of Word Press.
Ross and Vanitha were having major problems with their previous Square website but loved using the Square POS system. We combined the two websites to be symbiotic. Word Press would do the heavy lifting in the SEO department and provide a lovely user experience. Square would handle the online orders and sync their sales and inventory.
Tradewinds love to think outside the box and have a wealth of business knowledge to problem solve and find a solution for any business.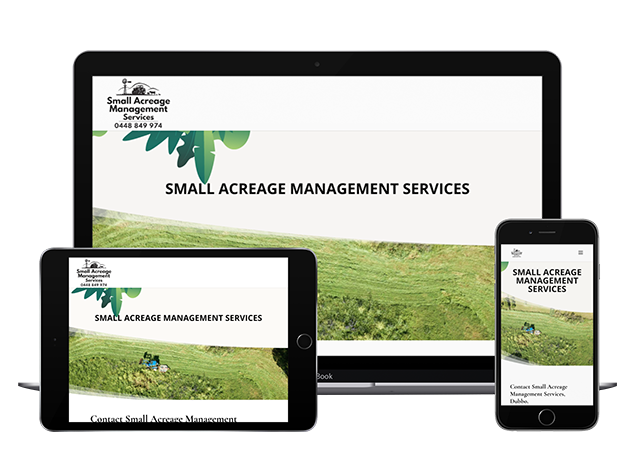 Small Acreage Management Services
Small Acreage Management Services chose Tradewinds Web Design to build a simple cost effective website that would highlight their modern machinery and expertise in managing small farms. 
Greg wanted a simple site where his tractor takes center stage. He did not want to store video footage on YouTube servers and instead chose to host his own video on the website. This required condensing the footage and optimising the website to remain fast and user friendly.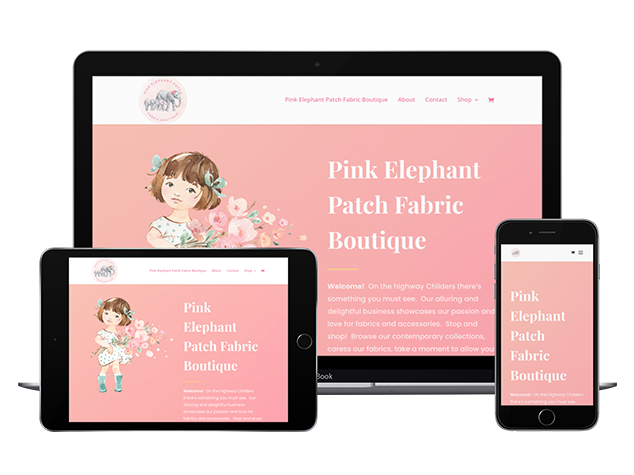 Pink Elephant Patch Fabric Boutique
On the highway Childers there's something you must see.  Pink Elephant Patch Fabric Boutique is an alluring and delightful business that showcases Heather's passion and love for fabrics and accessories. 
Heather reached out to Tradewinds Web Design to create a pretty pink eCommerce site that she could learn to manage and scale herself.
This website is a great example of a cost-effective build in conjunction with ongoing education.
Haley Brooke is our beautiful junior web designer and receptionist who is quickly developing her skills as a Web Developer, SEO and Social Media marketing expert.
Haley requested to design her own website and utilised Tradewinds Web Design hosting and design software to create her own website.
Sometimes the best way to learn a new skill is to just jump in the deep end and take a hands-on approach.
When you reach a road block you can always reach out to Tradewinds Web Design to ensure you overcome and reach your goals.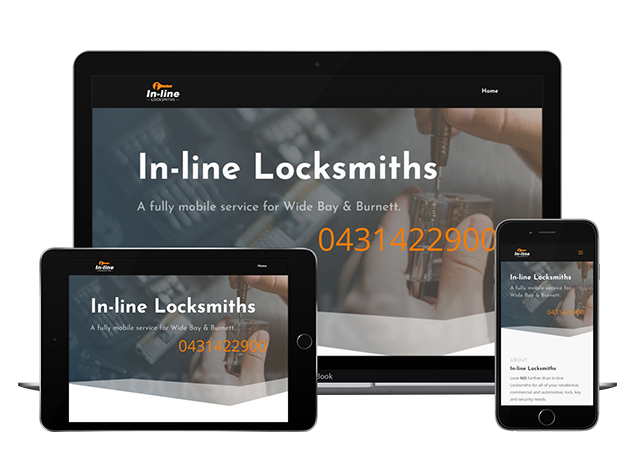 In-Line Locksmiths approached Tradewinds Web Design as a brand new business that wanted to get some online traction from the get-go. They also wanted a company webmail address to ensure their new business had a professional image.
Steve wanted to place his contact details front and center so clients could easily click and call from their mobile devices.
Steve wanted to highlight the fact that the business was reliable, trustworthy, and friendly.
We opted for a sleek professional image with moving text and interactive elements.
Not bad for $299.
Your Business is in safe hands with tradewinds Web Design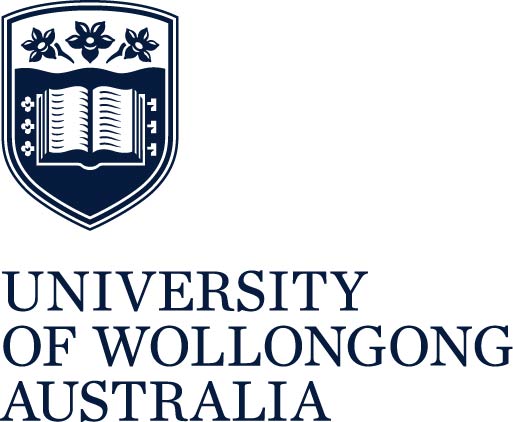 Search Engine Optimization
Our Pricing Reflects the 4 Key Components of any website.
SEARCH ENGINE OPTIMISATION
Get found quickly on Google and all other major search engines.
Customise your website and make the most of all the tips and tools Tradewinds uses for search engine optimisation.
If your not on Google can anyone find you?
STRUCTURE
A website can be filled with useful informative and engaging content but users will jump ship and leave if you have poor structure and navigation.
Keep visitors engaged with the help of Tradewinds structuring techniques.
CONTENT
Content refers to the information stored in your website.
Text, images, media and documents need to be arranged in a way that makes users want to stick around.
 INFRASTRUCTURE
This refers to the hardware, software and systems that are holding the website together. These are the behind-the-scenes  components that have a strong impact on the capabilities that a website can support.
Allow Tradewinds to offer a fast, safe and reliable website housed on Australian shores.
Work with a team of talented designers.
Tradewinds Web Design get results faster and cheaper than the rest.
We won't confuse you with IT jargon or the latest widgets. We will however work with you to design a beautiful clean website that ranks well on Google and other search engines.
Our cost effective plans will leave you with more money to grow your own business.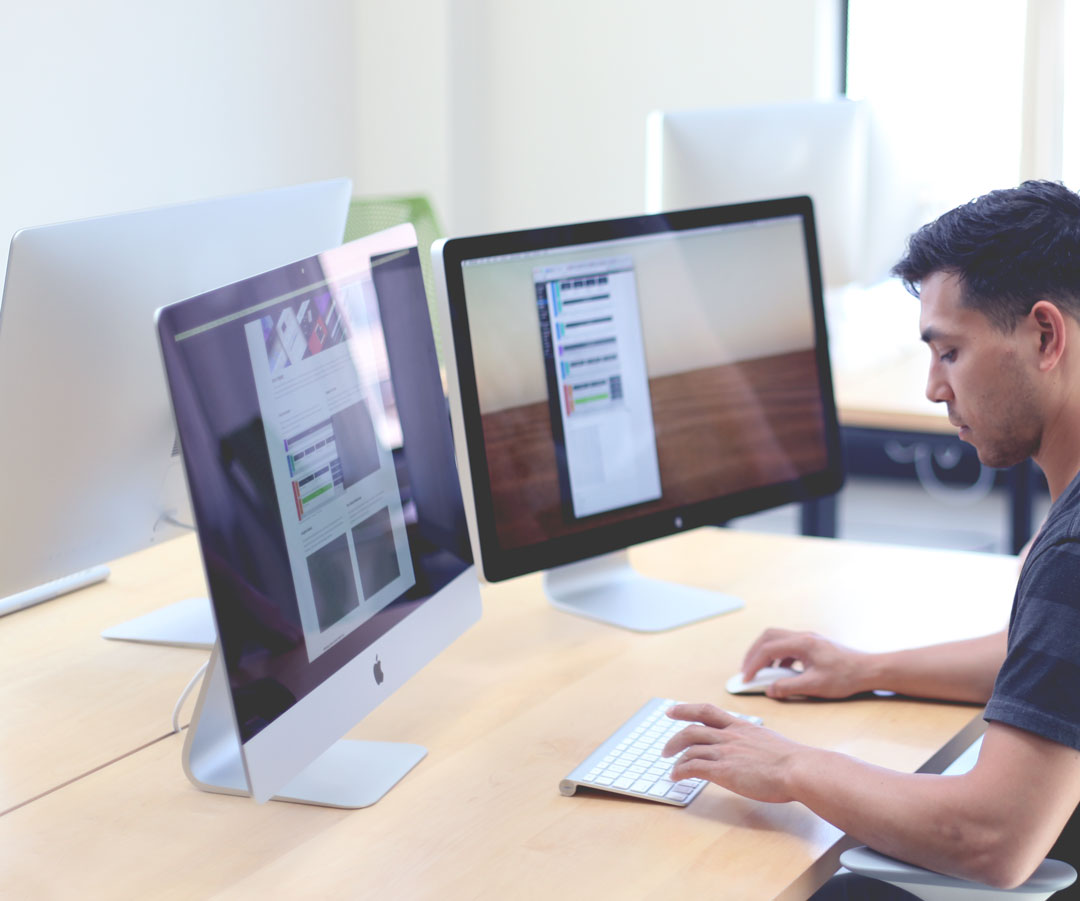 Tradewinds Web Design provides website design services, SEO, and digital marketing for regional Australian businesses.
We believe small business is the backbone of the Australian economy and requires special attention to succeed online in a crowded environment. We offer THE BEST PRICES IN AUSTRALIA and pride ourselves on exceptional quality and service.
Tradewinds Web Design in CHILDERS / BUNDABERG services the following regions and towns:
The Wide Bay-Burnett region of Queensland includes Bundaberg, Isis, Fraser Coast, Gympie, North Burnett, South Burnett & Noosa. We also service the Gladstone region.
In the Bundaberg region, we service Ashfield, Avenell Heights, Avoca, Branyan, Bundaberg Central, Bundaberg East, Bundaberg North, Bundaberg South, Bundaberg West, Kensington, Kepnock, Millbank, Norville, Svensson Heights, Thabeban, Walkervale.
In the Isis region we service Childers, Apple Tree Creek, Booyal, Buxton, Cordalba, Doolbi, Farnsfield, Goodwood, Horton, Isis Central, Kullogum, North Isis, Redridge, South Isis, Woodgate Beach.
In the Fraser Coast region, we service Hervey Bay, Booral, Bunya Creek, Craignish, Dundowran, Dundowran Beach, Eli Waters, Kawungan, Nikenbah, Pialba, Point Vernon, Scarness, Sunshine Acres, Susan River, Takura, Toogoom, Torquay, Urangan, Urraween, Walligan, Wondunna, Rural Hervey Bay, Beelbi Creek, Burgowan, Burrum, Burrum Heads, Burrum River, Burrum Town, Cherwell, Dundathu, Howard, Pacific Haven, River Heads, Torbanlea, Walliebum.
In the Maryborough area we service Maryborough, Granville, Island Plantation, Maryborough West, Aldershot, Beaver Rock, Bidwill, Boonooroo, Boonooroo Plains, Eurong (Fraser Island), Ferney, Glenorchy, Great Sandy Strait, Maaroom, Poona, St Helens, Teddington, The Dimonds, Tinana, Tuan, Tuan Forest, Walkers Point, Tiaro, Blackmount, Pioneers Rest, St Mary, Thinoomba, Bauple, Glenbar, Glenwood, Gootchie, Gundiah, Kanigan, Tin Can Bay, Tinnanbar.
In the Gympie region we service Gympie, Araluen, Chatsworth, Glanmire, Jones Hill, Kybong, Monkland, Nahrunda, Southside, Tamaree, The Dawn, Two Mile, Veteran, Victory Heights, Woondum, Rainbow Beach.
In the Noosa region we service Castaways Beach, Noosa Heads, Noosaville, Sunrise Beach, Sunshine Beach, Tewantin, Marcus Beach, Noosa North Shore, Peregian Beach, Teewah, Black Mountain, Boreen, Boreen Point, Cooran, Cooroibah, Cooroy, Cooroy Mountain, Cootharaba, Doonan, Eerwah Vale, Federal, Kin Kin, Lake Macdonald, Pinbarren, Pomona, Ridgewood, Ringtail Creek, Tinbeerwah.
We service the Gladstone region which includes Gladstone, Gladstone Central, Barney Point, Beecher, Byellee, Callemondah, Clinton, Glen Eden, Kin Kora, Kirkwood, New Auckland, O'Connell, South Gladstone, South Trees, Sun Valley, Telina, Toolooa, West Gladstone, Ambrose, Benaraby, Boyne Island , Bracewell, Builyan,, Burua, Calliope, East End, Many Peaks, Mount Larcom, Nagoorin , Raglan, Tannum Sands , Ubobo , West Stowe, Wooderson, Wurdong Heights , Yarwun, 1770, Agnes Water , Baffle Creek, Bororen , Captain Creek, Colosseum, Deepwater, Euleilah, Gindoran, Lowmead , Miriam Vale.
Tradewinds Web Design in NOWRA services the following regions and towns:
The South Coast which includes Shoalhaven, Kiama, Shellharbour, and Illawarra regions of New South Wales.
We service the Shoalhaven region which includes Nowra, Bangalee, Bomaderry, Cambewarra, Cambewarra Village, Mundamia, North Nowra, Nowra Hill, South Nowra, Tapitallee, Terara, West Nowra, Worrigee, Jervis Bay Territory, Basin View, Callala Bay, Callala Beach, Erowal Bay, Huskisson, Hyams Beach, Myola, Old Erowal Bay, Sanctuary Point, St Georges Basin, Vincentia, Woollamia, Worrowing Heights, Sussex Inlet, Berrara, Ulladulla, Berringer Lake, Burrill Lake, Milton, Mollymook, Mollymook Beach, Narrawallee, Berry, Berry Mountain, Coolangatta, Far Meadow, Gerringong, Illaroo, Jaspers Brush, Kangaroo Valley, Meroo Meadow, Shoalhaven Heads, Bewong, Brundee, Burrier, Culburra Beach, Currarong, Falls Creek, Greenwell Point, Pyree, Sassafras, Tomerong, Tullarwalla, Wandandian.
We service the Kiama region which includes Kiama, Bombo, Kiama Downs, Kiama Heights, Minnamurra, Foxground, Gerringong, Gerroa, Jamberoo, Jerrara, Toolijooa, Upper Kangaroo, Werri Beach.
We service the Shellharbour region which includes Albion Park, Albion Park Rail, Barrack Heights, Barrack Point, Blackbutt, Calderwood, Croom, Dunmore, Flinders, Lake Illawarra, Macquarie Pass, Mount Warrigal, North Macquarie, Oak Flats, Shell Cove, Shellharbour, Shellharbour City Centre, Tongarra, Tullimbar, Warilla, Yallah, Yellow Rock.
We service the Wollongong region which includes Wollongong, Dapto Port Kembla, Bellambi, North Wollongong, Fairy Meadow, Corrimal, Warrawong, Windang, Unanderra, Lake Illawarra, Kanahooka, Woonona, Yallah.
Tradewinds Web Design in Dubbo services the following regions and towns:
The Western Plains, Orana, Orange, Tamworth, Parkes and Bathurst Regions of New South Wales.
We service the Orana region which includes Dubbo, Brocklehurst, Dripstone, Euchareena, Eulomogo, Eumungerie, Geurie, Maryvale, Mogriguy, Mumbil, North Yeoval, Rawsonville, Stuart Town, Toongi, Wellington, Wongarbon, Mudgee, Bogan, Bourke, Brewarrina, Cobar, Coonamble, Gilgandra, Narromine, Walgett, Warren and Warrumbungle.
We service the Bathurst, Orange and Central tablelands region which includes Orange, Lucknow, Milthorpe, Bathurst, Lithgow, Cowra, Wellington, Blayney, Oberon, Gulgong.
We also service Parkes and surrounding areas.